Disease Management
Improving health outcomes through education and evidence-based guidelines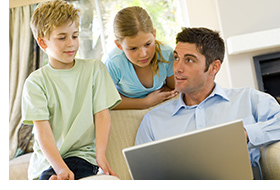 American Health's URAC-accredited Disease Management program targets nine prevalent conditions for which evidenced-based guidelines are established to impact health and measure improvements:
Asthma
Chronic kidney disease (CKD)
Chronic pain (osteoarthritis, rheumatoid arthritis or low back pain)
Coronary artery disease (CAD)
Congestive heart failure (CHF)
Chronic obstructive pulmonary disease (COPD)
Diabetes
Hyperlipidemia
Hypertension
Members with chronic conditions are identified through an advanced predictive modeling system and, once enrolled, work one-to-one with a dedicated nurse health coach. All of American Health's Disease Management nurse coaches are registered nurses who have been trained in motivational interviewing techniques.
Nurse health coaches identify participants' confidence and ability to self-manage their condition using the Patient Activation Measure® assessment, developed by Insignia Health. They then help participants set individualized goals using Insignia's Coaching for Activation® behavioral change model.
Transitional Disease Management
When historical claims data is not available, we offer Transitional Disease Management to support clients during year one. Participation in the program is achieved through self-referrals, and American Health's team will assist clients with communication and strategic plan design to drive engagement in the program. Members will engage with nurse health coaches as described above in the Disease Management program. Transitional Disease Management does not include predictive modeling or member outreach. Beginning in year two, groups can transition to Disease Management with the submission of the r equired historical claims data.
Diabetes Management and DM with GHT Blood Glucose Meter
To assist clients with the increasing cost of diabetes, American Health partners with Genesis Health Technologies (GHT) to provide members access to advanced blood glucose meter technology that is HIPAA compliant and has been cleared by the FDA.
GHT's Blood Glucose Meter includes embedded cellular technology and automatically uploads readings to GHT's online portal, where members can monitor their test history and track trends. GHT's Smart Strip Technology securely shares test results with health care professionals on demand, and the Smart Supply Program generates savings by eliminating excess test strip purchases.
GHT's Blood Glucose Meter can be combined with American Health's Diabetes Management, which provides nurse health coaching for members with diabetes, or with our comprehensive Disease Management program that addresses nine common chronic conditions.
See our Disease Management key statistics
Read Evelyn's story and others on our case studies page
See what our members have to say about Disease Management
Product Highlights
Nurse health coaches use motivational interviewing techniques to empower individuals to self-manage their conditions
Our wellness and disease management consultant assists in developing a plan for optimal program engagement
Cost-savings methodology accredited by third party, SCIO Health Analytics
American Health - Disease Management.pdf
---
Testimonials
American Health's diverse portfolio, including data analytics and technology, allows us to create custom self-insured plans that outperform and exceed the commercial markets. They give the employer the cutting edge tools to measure their performance, keep them engaged and manage their medical cost trend. American Health Holding gets results.

Cindy Lee Rottmann
President /CEO

Outsource Marketing Strategies, Inc.

Tempe, AZ

We work with American Health because of their willingness to enhance their available products to a customized level to meet specific client needs.

Greg Cucullu
President

Combined Benefit Administrators

Fresno, CA

Wellness and Disease Management programs have been a hot topic for a few years, and clients are reaching out to discover ways to incorporate wellness into employee health plans effectively and efficiently. AHH has been instrumental in helping TPSC assist our clients with a variety of choices and excellent service. Developing a program of Utilization Management, Disease Management and Wellness can be challenging and exciting all at once! The staff at AHH has been very open to hearing the needs of our clients and assisting us in developing the program that serves each client's specific desires and requirements.

Cindy Gibbons
Account Manager

Trusteed Plans Service Corporation

Tacoma, WA

American Health is a partner to our success as a health plan administrator. They are knowledgeable, responsive and a great resource.

Dave Parker
Sr. VP Sales & Marketing

Meritain Health

Amherst, NY