Independent External Review
Ensuring appropriate care and compliance with health care reform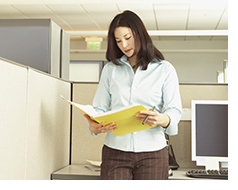 American Health's Independent External Review, also known as Third-Level Appeals, is designed to help plans comply with the Patient Protection and Affordable Care Act (PPACA) by providing administration and management of final medical necessity determinations by URAC-accredited Independent Review Organizations (IROs). Our program allows clients to respond quickly to claimant requests for expedited appeals while providing a thorough, structured process that meets all PPACA requirements.
Independent External Review serves as the source of three URAC-accredited IRO contracts and manages the assignment and tracking process for external appeals. Through objective, clinically driven determination of medical necessity for appeals and ensuring impartiality of the assignment process, the program positively impacts the process and outcome of patient care.
Independent External Review allows the client to outsource the management of the process for obtaining independent external reviews. It provides an efficient, cost-effective solution to internal administration of adverse determinations while ensuring compliance.
Product Highlights
Single source for administration and management of external appeals to URAC-accredited IROs
Expedited process for urgent reviews
Objective external appeals and impartial assignment processes allow optimum patient care
---
Testimonials
From a medical management standpoint, AHH delivers what the customer wants: Flexibility that fits our needs, versus one solution that fits all needs. Their onsite nurses are accustomed to our client base. They are invested in our success.

David Reynolds
President & CEO

Capitol Administrators

Rancho Cordova, CA

As a start-up company, American Health's partnership was an integral part of our success. Their iSuite software provided the reporting transparency that allowed us to identify high risk cases. They customize their services to fit our needs, but it is the partnership that we value the most.

LaRea Albert
CEO

Lonestar TPA

Tyler, TX

We work with American Health because of their willingness to enhance their available products to a customized level to meet specific client needs.

Greg Cucullu
President

Combined Benefit Administrators

Fresno, CA

American Health Holding is always looking at ways to innovate and offers each client the opportunity to customize a program that fits their unique needs. Their specialized medical professionals combine compassion, patience and unique knowledge about health care navigation to support the member and plan from both a quality of care and cost perspective.

Holly Weiske
Director of Client Services

Cypress Benefit Administrators

Appleton, WI

Our company has been using American Health Holding for many years. The quality of service provided by American Health is excellent, and every member of the staff has been helpful, knowledgeable and reliable.

Nia Padmore
Claims & Eligibility Manager

National Automatic Sprinkler Industry

Landover, MD