Specialty Pharmacy Advocacy
Providing care management and cost containment solutions for specialty drugs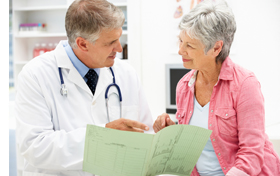 American Health's Specialty Pharmacy Advocacy program is a timely, tailored program designed to support members and plans with the high cost of specialty drugs. Medical management support is extended to members who are prescribed a specialty drug, but don't meet the criteria for Case Management. As a result, we are able to impact quality and savings in this complex and evolving specialty market.
The program includes the option to select support for medical necessity review, member advocacy, steerage and claims review. Clients and plans can define which conditions will be addressed by the program and the business rules regarding when outreach should occur. Through collaboration with your PBM and Specialty Pharmacy, American Health can provide additional support and complement your existing programs.
Savings are achieved through medical necessity reviews, improved medication adherence rates, averted complications through member education, steerage to alternate care settings and review of claims and dosage.
Product Highlights:
Support patients in achieving medication adherence
Coordination with PBMs
Protects the plan by providing medical necessity determinations for specialty drugs
Physician review panel includes U.S. licensed Pharmacist
Claims review identifies discrepancies in dosage
Steerage to in-network providers and alternate care settings
Identification source for members who are appropriate for Case Management
---
Testimonials
American Health's diverse portfolio, including data analytics and technology, allows us to create custom self-insured plans that outperform and exceed the commercial markets. They give the employer the cutting edge tools to measure their performance, keep them engaged and manage their medical cost trend. American Health Holding gets results.

Cindy Lee Rottmann
President /CEO

Outsource Marketing Strategies, Inc.

Tempe, AZ

Paragon has worked with American Health for over 20 years now. We have had great communication with their Case Management supervisor. Working with her has given a lot of insight into what goes on within a medical management company. Like Paragon, American Health is always thinking about the member first.

Nancy Dorris
Executive Vice President

Paragon Benefits, Inc.

Columbus, GA

Over the years that we have been working with American Health, I have virtually no complaints. Our experience with AHH has always been fantastic for both us and our clients. We have always been more than satisfied with the service, the technology and the expertise.

Susen Bookwalter
Vice President, Claims Review & Resolution

New Era Life

Houston, TX