Utilization Management
How is Utilization Management different at American Health Holding?
Medical necessity review of both inpatient and outpatient procedures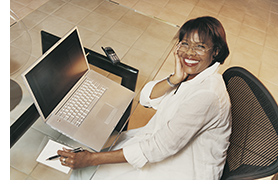 American Health's URAC-accredited Utilization Management program provides medical necessity reviews that ensure members receive appropriate care while maximizing opportunities for cost savings. Members benefit from our program's registered nurse reviewers, American Health's board certified medical director, an internal panel of board certified, practicing physician specialists and an external panel of specialists.
Our clinical professionals benchmark against MCG Health's days per 1,000, admits per 1,000 and average length of stay criteria to certify treatments. Cases are continually monitored to ensure quality and appropriateness of care, and we report all never events and avoidable hospital conditions. All admission evaluations and reviews are conducted by registered nurses with an average of 10 or more years of clinical experience or by board certified physician reviewers. The review is supported by American Health's state-of-the-art proprietary software, iSuite, that facilitates all steps in the utilization review process and automatically makes referrals to Case Management.
Click here to see our Utilization Management key statistics.
Product Highlights:
Facilitation of all steps in the utilization review process, from initial provider or patient contact through criteria application, evaluation and recommendation
Services guided by American Health's Total Quality Management program, which sets the highest priority on timeliness, accuracy, quality of care and cost-effectiveness
Capability of network verification
Capability of accepting and responding to prior authorization requests through electronic transmission
Utilization Management reports benchmarked using MedInsight from Milliman, Inc.
---
Testimonials
American Health's Utilization Review service and iSuite medical management software provides our claims processors with easy access to all the precertification information necessary. The Case Management team is thorough, responsive, and a great resource for our staff and our members.

Mike Jacobson
Fund Administrator

National Automatic Sprinkler Industry

Landover, MD

For the past two years, American Health Holding has provided exceptional precertification and case management services to participants in several Welfare Funds administered by our TPA. Now, we look forward to adding other critical, cost saving programs offered by AHH such as Maternity Management and Outpatient Chemo Precertification. It's a win-win, for the participants and the Welfare Funds, when AHH is your business partner during these ever changing and uncertain times in the health insurance industry.

Kathy Cole
Account Executive

GEM Group Inc

Pittsburgh, PA

American Health has provided Case Management and Utilization Review for Cerner HealthPlan Services since 2007. Case Management helps improve our members' experience through education, case oversight and identifying alternative care options when appropriate to maximize their health benefits. Utilization Review ensures oversight of inpatient and outpatient procedures for the most cost-effective, quality treatments to help realize health plan savings and appropriate health care services for our members. American Health plays a role in our ability to exceed our clients' expectation for benefits administration.

Betty Safford
Director, Client and Quality Operations

Cerner HealthPlan Services, Cerner Corporation

Kansas City, MO

Over the years, I have been impressed by both the Utilization Review and Case Management services provided by American Health Holding. The customer service is excellent! It is great to have an actual contact when a situation arises. The case management nurses are knowledgeable; their reports are understandable and comprehensive. Many of our patients in Case Management have called Group Administrators to say the case manager was wonderful to work with and very helpful.

Mary Hasterok
Case Management Coordinator

Group Administrators, Ltd.

Schaumburg IL

American Health Holding has been a preferred vendor partner for PBA for more than 13 years. AHH makes it easy to work with them because of their commitment to providing quality customer service and a variety of cost containment solutions

Diane Geiger
Director of Sales Support

Professional Benefit Administrators, Inc.

Oak Brook, IL