24/7 Physician Consultations
Improving access to quality care while reducing costs to members and benefit plans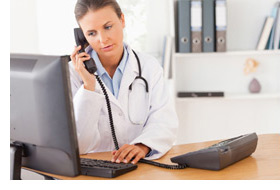 American Health's 24/7 Physician Consultations provides members with around-the-clock access to licensed physicians while reducing claims costs for benefits plans. The service reduces unnecessary visits to the doctor, urgent care and emergency room and correlates to reduced sick-leave absenteeism and less time off work. 24/7 Physician Consultations allows members to receive diagnoses, medical advice, treatment recommendations and even prescription medications when appropriate.
Members can use 24/7 Physician Consultations:
For common, acute conditions that can be treated without a face-to-face visit
From anywhere — at home, at work or on the road
After hours — during the evening, on weekends or holidays
When they cannot reach their primary care physician
If they are unable to access care due to inclement weather or a remote location
American Health partners with Teladoc, the first and largest telemedicine provider in the U.S., to offer 24/7 Physician Consultations. Teladoc is NCQA certified for credentialing and offers members access to experienced, licensed, U.S.-based physicians. Members can speak with a Teladoc physician through phone or video and can also access the service through a mobile app that is available on all Apple and Android devices.
Following a consultation with a physician, members can utilize Teladoc's Message Center, which has information on the member's diagnosis, post-consult care directions and allows members to ask follow-up questions.
Product Highlights
Convenient, timely consultations available to members anytime
Reduces claims costs for benefits plans and saves members time and out-of-pocket costs
Offers a fast, affordable alternative for minor medical problems and health issues
All physicians are licensed, board certified and based in the U.S.
Available for members at home, at work or traveling
What is Teladoc?
---
Testimonials
American Health's diverse portfolio, including data analytics and technology, allows us to create custom self-insured plans that outperform and exceed the commercial markets. They give the employer the cutting edge tools to measure their performance, keep them engaged and manage their medical cost trend. American Health Holding gets results.

Cindy Lee Rottmann
President /CEO

Outsource Marketing Strategies, Inc.

Tempe, AZ

What I appreciate most about American Health Holding is the genuine commitment to providing the highest level of customer service. Starting with the CEO, concerns are heard, validated and acted upon swiftly to ensure that the client is satisfied.

Kim Stroud
Benefits Manager

Manatee County

Bradenton, FL

We have a level of trust in their services because of such high quality and professional staff. It is very helpful when responding back to our customers' questions. Our companies are simply a good fit for one another.

Cindy Evenson
COO

Benefit Plan Administrators of Eau Claire

Eau Claire, WI

American Health has provided a great resource with their ability to assist with RFP and sales opportunities. They are always willing to customize materials and programs to best fit our clients' and prospects' needs.

Bill Bixler
Sr. Account Executive

The Loomis Company

Wyomissing, PA

Over the years that we have been working with American Health, I have virtually no complaints. Our experience with AHH has always been fantastic for both us and our clients. We have always been more than satisfied with the service, the technology and the expertise.

Susen Bookwalter
Vice President, Claims Review & Resolution

New Era Life

Houston, TX

American Health is and has always been very receptive to any need that we may have in servicing our clients. Their products and services are constantly being updated to meet the changing needs of this market. I would highly recommend AHH to anyone needing medical management services.

Deb Immel
RN CMCN CCM