Medical Cost Containment
A multi-level review approach to maximize opportunities for claims savings
Identifying questionable charges that are incorrect, inconsistent, unjustified, coding errors, upcoding, unbundling errors or erroneous.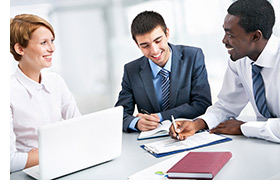 American Health's Medical Cost Containment provides a comprehensive solution for clients, verifying that charges billed are appropriate for the care provided. This unique approach begins with a thorough assessment of pre-paid claims by our internal experts. Clients are then presented with detailed findings and recommendations through American Health's Bill Review, Out-of-Network Negotiations or Bill Audit services.
Additional savings may be available when combined with American Health's medical management services.
Bill Review
A Bill Review identifies outright, visible billing errors.
Out-of-Network Negotiations
Out-of-Network negotiations provides negotiations on out-of-network charges using reasonable and customary rates and historical experience.
Comprehensive Bill Audit
The Comprehensive Bill Audit is a detailed line-by-line review that checks for medical bill errors such as unbundling charges or coding discrepancies.
Product Highlights
A consultative, multi-level review solution to maximize client savings working with internal experts
Free prescreen analysis on each bill within 48 hours that includes a review of the plan documents, PPO and stop loss contracts, and a suggested approach to obtain savings
Additional savings opportunities through American Health's medical management services
American Health - Medical Cost Containment.pdf
---
Testimonials
I have never been disappointed with American Health's level of customer service. I can't think of a single occasion where we've asked for something and not received it. We are also very appreciative of American Health's Utilization Management reports. They're very informative, concise, comprehensive and user friendly to both the administrators and the clinicians on staff.

Libby Watkins
Director of Health Benefits Management

American National Insurance Co.

Galveston, TX

There is an account management service philosophy that AHH has as an organization. Every touch point is a good experience. Good listening, good follow-through and flexibility without compromising the integrity of the AHH program.

Ann Lervold, MA
Quality & Health Promotion Services Manager

First Choice Health

Seattle, WA

American Health provides the oversight needed to manage claims costs. Their Case Management department is customized to meet our clients' needs versus the industry standards.

Michael Lagalante
President

International Benefits Administrators LLC

Garden City, NY

American Health is easy to work with, very responsive and communicative. Their turnaround time is excellent. We are very satisfied, especially with the Medical Review staff.

Edwin Embry
Director of Benefits

Cement Masons & Laborers Health & Welfare Fund

Northern, CA

The reason we continue to use American Health is because we can rely on them for defensible and reasonable reviews of our non-contracting provider bills (out- of- network claims). We have come to find their services invaluable.

Pauline Hann
Benefits Manager

Carpenters Health & Welfare Trust Fund for CA

Oakland, CA

American Health is very aware of the needs of our different clients. Any time we have needed anything, they have bent over backwards to accommodate us. That flexibility has been invaluable. Timeliness and accessibility have never been an issue. American Health has been a partner in working with our clients, and that's important to our
company.

Kim Wood
Chief Compliance Officer and Consultant

American Benefit Corporation

Ona, WV