Medical Disclosure
Estimating claim risk for carriers, underwriters and third party administrators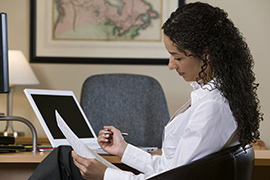 Managing the 80 percent of health care dollars that are spent by 20 percent of the population isn't easy. Because of this, American Health provides Medical Disclosure services to evaluate claim risk and project potential for rehospitalization. We provide clinical prognoses to stop loss carriers and managing general underwriters (MGUs) and can also support third party administrators (TPAs) in underwriting medical costs.
Cases may be submitted for Medical Disclosure review or referred via automatic triggers built into our integrated programs. Services help to project the potential high-dollar claims a participant could accumulate and identify the financial impact to the plan for the coming year.
All reviews are conducted by a case manager within three business days of receipt. Detailed claim risk reports include a medical history, clinical status, treatment plan and potential costs.
Case Management clients may view reports online 24 hours a day, 7 days a week via American Health's easy-to-use EZ Access program.
Product Highlights
Timely, comprehensive clinical assessment and prognosis projections based on patient history
Estimating the potential high-dollar medical and pharmaceutical claims a member could accumulate within the next 12 months
Flexible services can be used as a primary or overflow resource and are available alone or in conjunction with our Case Management program
---
Testimonials
Paragon has worked with American Health for over 20 years now. We have had great communication with their Case Management supervisor. Working with her has given a lot of insight into what goes on within a medical management company. Like Paragon, American Health is always thinking about the member first.

Nancy Dorris
Executive Vice President

Paragon Benefits, Inc.

Columbus, GA

Swiss Re Corporate Solutions considers AHH to be one of our preferred vendors because they have programs in place to help manage complex diseases such as cancer. If supported by the plan document, AHH can proactively review patients and assist with second opinions to ensure accurate diagnosis, testing and that the most appropriate treatment protocol is being followed. Additionally, AHH case managers help employees select in-network facilities that have the best outcomes for the diagnoses and negotiate costs of care while maintaining a focus on the employee and their dependents. AHH helps employees regain their optimum levels of wellness and simultaneously protect plan assets.

Matt Leming
Sales Leader, VP

Swiss Re

Overland Park, KS

American Health is very easy to work with. Their iSuite access provides all the detail we need to process claims and respond to inquiries from providers, members and stop loss carriers. American Health is responsive to our requests and keeps our office informed of potential large claims, etc.

Administrative Office



American Health is very flexible in meeting our clients' ever-changing needs. They are always willing to explore new opportunities that are not part of their standard product package.

Missy Reasinger
Senior Account Manager

Harrington Health

Westerville, OH

The staff at American Health is a valuable resource to our claims administration team. Anything our team at MEBA needs, whether it be questions regarding a precert or the more complex details of a high-cost member in Case Management, the American Health staff is always helpful and knowledgeable.

Patty Kelly


MEBA Benefit Plans

Baltimore, MD