Medical Transportation
Experienced clinical specialists managing the complexities of medical transportations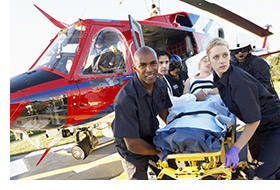 Medical Transportation is available 24 hours a day, 7 days a week for members who require transportation for medical care. We coordinate transports that are domestic or international, urgent or planned. The program serves as a safety net by ensuring quality treatment for members who cannot receive care at their current location, who need to be transported to a facility closer to home after an illness or injury while traveling, or who need to travel for medical treatment.
Our experienced clinical care coordinators oversee the end-to-end process of a medical transportation, including verifying benefits and eligibility coverage, coordinating with the discharging and admitting facilities, and arranging travel for members and their families. They maintain contact with all parties: the member's family, providers, transportation carriers, clients and Case Management.
The Medical Transportation department is also available to support employer groups who offer a travel assistance or medical tourism benefit.
When managing a case, the Medical Transportation team facilitates the most appropriate transport that meets the member's needs and urgency of his condition, is most cost effective for the client and maximizes the coverage of the benefit plan. We coordinate the following types of transportation:
Emergency air ambulance
Complex ground transport
Medical escort
Commercial travel assistance
Transplant patient transport
Bariatric coach transport
Repatriation services
Read Andrew's story and others on our case studies page
See what our members have to say about Medical Transportation
Product Highlights
Ensures quality of care for members who need to travel for medical care either domestically or internationally
Knowledgeable, experienced clinical care coordinators oversee the complex process, relieving members and clients of the required administrative activities
Cost savings through negotiations or relationships with carriers, and referrals to a network facility and/or negotiations for out-of-network providers
Successful management of more than 1,900 cases since 2007
What is American Health Holding's Medical Transportation Service?
---
Testimonials
American Health Holding's workforce demonstrates education and skills that provide exemplary customer service to internal and external customers alike. They work cohesively so that the member experience is seamless. I would recommend AHH to any business requiring their expertise and business model.

Sharon Abney
Operations Manager

SASid, Inc. / InsuranceTPA.com

Janesville, WI

The value that American Health brings to our clients and members is invaluable to our company. In a recent case, American Health coordinated the transfer of a plan member's daughter to a nearby hospital following a tragic accident. Relieving the burden of responsibility to the family while carefully managing costs is the type of service we can expect from American Health.

Cindy Sonnen
President

Simplifi Health Benefit Management, LLC

Columbus, OH

American Health's Case Management service has provided H.H.C. Group and our clients with an exceptional service. The nurses are always available for questions, very responsive and willing to work with our team to ensure members receive the care and information needed.

Bruce D. Roffé
President & CEO

H.H.C. Group

Gaithersburg, MD

The expertise that American Health provides to the aeromedical transfers allows us to facilitate and expedite the process. Their compassion and empathy for the patient and the patient's families sets a standard to which all health care providers should strive to achieve.

Craig Poliner
President

MedEscort International, Inc.

Allentown, PA

American Health's iSuite system provides the Wabash claim team quick and easy access to our members' precertification information. We utilize the system daily and find the convenience, ease of use and information a great asset to timely and accurate claim adjudication.

Debby Kunze
Medical Claim Manager

Wabash Memorial Hospital Association

Decatur, IL