Wellness
Improving wellness reduces health risks and avoids future costs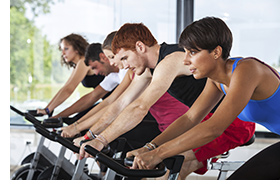 American Health's Wellness programs are a solution for employers who are looking to reduce future health care expenses. Targeting both healthy individuals and those who are at risk of developing a chronic condition, our Wellness programs help members achieve healthier lifestyle behaviors through a Wellness Portal, Biometric Testing and Lifestyle Coaching.
Wellness Portal
American Health's Wellness Portal provides a wide range of online resources focused on member-specific needs. Key features include a health risk assessment, personal health record, health trackers, symptom checker, rewards center, digital coaching, drug guide and a wealth of other decision-support tools.
Biometric Testing
Onsite or offsite biometric testing options are available to help members understand potential health risks and increase engagement through the use of the Wellness Portal and Lifestyle Coaching.
Lifestyle Coaching
Through a dedicated, one-to-one coaching approach via telephone and through the Wellness Portal, Lifestyle Coaching utilizes the latest behavior-change science and highly credentialed health professionals to drive sustainable health outcomes.
Product Highlights
Supports both healthy and at-risk participants in setting goals to reduce the risk of future disease
Comprehensive Wellness Portal includes a health risk assessment and interactive support tools
Personalized Lifestyle Coaching motivates and empowers individuals to modify lifestyle behaviors
Wellness and disease management consultant assists in developing a plan for optimal engagement
Referrals to Disease Management for additional member support and plan savings opportunities
---
Testimonials
There are specific companies where you have one or two people that you can contact, and those people come and go. Our companies have been working together since the 90s. There's a huge comfort factor in being able to contact my American Health account executive who I've worked with for years and years. I know I'm going to get a response, and it's going to be timely. If it's something that is being worked on, then American Health keeps me updated. And if there is any way, shape or form that what I'm asking for can happen, it's done. And if it's not, then I still know I'm going to get an answer, even if I don't like that answer. That's unique nowadays. Everyone wants to pass the buck. That is worth gold. If I can have someone that's honest with me, that's huge.

Marc Paulson
President

Benefit Plan Administrators, Eau Claire

Eau Claire, WI

American Health's integration of data in one place that can actually speak to one another (Disease Management can speak to Case Management, etc.) is a strong point to our book of business. Information is available to everyone, which really plugs some holes in the whole wellness/chronic disease management continuum. This filled our need for a program to manage people with chronic conditions and not just the catastrophic.

Tina Vasen
VP Marketing

Trusteed Plan Services Corp.

Tacoma, WA

We have been working with American Health since 2011 and find great value with their products and services. Their staff is always supportive and helpful, and they are above average outfit that offers superior service.

Sandra L. Dickerson
Benefit Manager

Decision Science Inc.

Baltimore, MD

USI/Southwest - Austin has selected American Health to provide services for our clients for several years. With the diversity of our accounts, their array of coverage capabilities with appropriate price points makes American Health a preferred provider for our clients.

Karel Mosebrook
Employee Benefits Consultant

USI Southwest

Austin, TX