Case Management
Our clinical experts balance quality of care for members while maximizing plan savings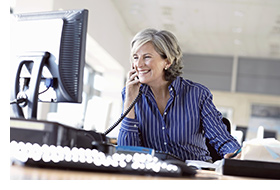 American Health's URAC-accredited Case Management services are designed to improve the quality of patient care while maximizing cost savings. Our Utilization Management triggers cases that may benefit from Case Management intervention, helping to facilitate early identification, prevent rehospitalization and significantly reduce costs. American Health case managers are registered nurses and licensed social workers who function as advocates, facilitators and educators, ensuring that members receive appropriate care at the right time, the right setting and the right cost.
Our experienced clinicians:
Collaborate with providers to ensure the member receives high-quality, cost-effective care
Complete telephonic assessments that assist in determining the member's needs and requirements
Review treatment plans for medical necessity and standards of care
Help members and their families understand what to expect during the course of treatment
Supply education materials about treatment options
Assist members and families in understanding available benefits
Steer members to network providers
Work closely with stop loss carriers to manage high-cost, complex cases
Click here to see our Case Management key statistics
Read Jason and Kelly's story and other case studies
See what our members have to say about Case Management
Product Highlights
Comprehensive approach to patient-focused support and life management
Dedicated case managers interact with patients and families, offering a complete support network
Experienced case managers supported by American Health's board certified medical director and a panel of board certified, practicing physician specialists
We report all never events and avoidable hospital conditions
Mitigating plan exposure and providing group- and member-specific reporting
How is Case Management different at American Health Holding?
---
Testimonials
American Health's Case Management service has provided H.H.C. Group and our clients with an exceptional service. The nurses are always available for questions, very responsive and willing to work with our team to ensure members receive the care and information needed.

Bruce D. Roffé
President & CEO

H.H.C. Group

Gaithersburg, MD

American Health's CM nurses balance the needs of our clients and each individual member they engage. Their model is personable, generating high member satisfaction, while providing program oversight to help manage our loss ratio.

Lynn Fleury
Marketing Executive

Blue Benefit Administrators of MA

American Health case managers are just more unique at a professional level. Their communication skills are filled with knowledge; they are very prompt to respond, extremely honest and very good with members. Whenever I refer someone over to Case Management, I never question the level of expertise our members will receive.

Carol Stolzenbach


Diversified Group Brokerage

Marlborough, CT

American Health makes my job a little less stressful. When something needs to be retro pre-certified it is done quickly. All of the staff at American Health is very professional and caring. Their case managers will never hesitate to explain things in detail if I have a question. It is always a pleasure to work with them.

Lynn Feldman
Claims Manager Tri State Administrators

UFCW Local 2013

We recently moved a large number of our Utilization Review and Case Management clients to AHH and we have been very pleased with their services. AHH has been responsive, flexible and timely. They are a solid partner for us and our clients.

Steve Chapman
President

Auxiant

Madison, WI

The case managers that I have a relationship with are extremely pleasant, knowledgeable, thorough and receptive - every word you could possibly think of. They're awesome. Our case management supervisor is an incredible go-to person for me.

Joni Clover
Claims Department Manager

Employee Benefit Systems

Burlington, IA