Advanced Radiology Scheduling Services
Maximizing cost savings and quality assurance for imaging procedures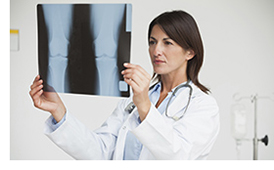 The combination of American Health's precertification services and US Imaging's in-network facilities provides clients with cost savings and quality assurance with every member experience. Advanced Radiology Scheduling Services generates out-of-pocket savings for members and an average of 36% savings for clients. Members who are in need of MRI, CT or PET scans have access to a network of 2,400 state-of-the-art facilities.
Once a radiology procedure is precertified with American Health, the member receives a call within 48 hours to schedule an appointment at a convenient time and location. The VIP concierge services provide education on the upcoming procedure, appointment reminders and follow-up calls, creating peace of mind for members. In addition, American Health and US Imaging coordinate with the referring physician and imaging facility to ensure quality and a positive member experience.
Product Highlights
Value-added feature when purchasing American Health's Utilization Management Outpatient Diagnostics
Provides access to a national network of more than 2,400 facilities
All facilities meet quality imaging standards
Convenient VIP concierge scheduling for MRI, CT and PET scans
94% of participants are highly satisfied with the scheduling services
When given the choice, 90% of members or referring physicians will use a US Imaging facility.

American Health - Advanced Radiology Scheduling Services.pdf
---
Testimonials
Employees are the single most important asset of any company. I feel it is my responsibility as president of our company to provide products and services to give our employees an opportunity to enjoy a happier and healthier life. Healthy employees are not only happier, but more productive. This is where American Health Holding's team fits our objectives perfectly. We have been able to integrate their products and services into our benefits programs, giving our staff every opportunity to lead a healthy and productive life. Thank you American Health Holding!

Mark R. Baldwin
President

Baldwin House Agency, Inc

Nashville, IL

American Health has provided us unique options that are customized to the needs of our clients. They offer flexibility, wonderful support and great service at a fair price.

Renee Stout


Capitol Administrators

Rancho Cordova, CA

We recently moved a large number of our Utilization Review and Case Management clients to AHH and we have been very pleased with their services. AHH has been responsive, flexible and timely. They are a solid partner for us and our clients.

Steve Chapman
President

Auxiant

Madison, WI

USI/Southwest - Austin has selected American Health to provide services for our clients for several years. With the diversity of our accounts, their array of coverage capabilities with appropriate price points makes American Health a preferred provider for our clients.

Karel Mosebrook
Employee Benefits Consultant

USI Southwest

Austin, TX

ChiroMetrics views American Health Holding as an industry leader in medical management and values every opportunity to partner with them.

Michael Richard
Vice President, Business Development

ChiroMetrics, Inc.